78542
visitors


Listed with Bicycles.net.au
---
Please help fund the development and construction of WoodBike v1.5...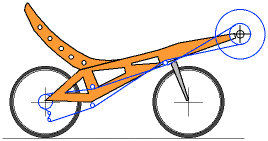 I've seen a few wooden bicycles on the web, and I've wondered for a while about wood as a bike-building material, too. Wood can be just as strong and light as many of the modern composites, and it's often easier to work. The question is - Can I do it? Can I build a reliable, practical vehicle? Well, I plan to give it a good try.
My main goal will be to start with building a light, but strong, short-wheelbase, under-seat-steering, recumbent frame of marine ply, with welded steel dropouts and head tube, then start looking at improvements to the design and componentry. I plan to use a standard chromoly fork and alloy spoked wheels to start with, but if the machine works well, I'll try building timber wheels and fork, too.
Anyway, here's my starting specification...
Wheels...

Initial spec: 20x1.25 alloy rims with stainless spokes.
Final spec: 20x1.25 alloy rims on ply 3-spoke front and ply disk rear.
drum brake hubs.

Frame...

Marine grade ply and laminate (various thicknesses.) shaped and hollowed for optimum weight & strength. All joints to be epoxy and screw bonded.
Welded steel couplings for componentry interfacing.
All timber to finished with a heavy duty, clear polyeurathane over dark stained "points".
All interfacing metalwork to be brushed and polished to match wood grain direction.

Fork...

Initial spec: chromoly unicrown with A-head style steerer and head.
Final spec: timber fork legs coupled to chromoly crown and steerer.

Componentry...

Initial spec: whatever comes to hand.
Final spec: probably Shimano STX (as much as possible, anyway.) preferably 24 speed.
Lightest, strongest available chain.

Weight Targets...

Initial spec: <18kg.
Final spec: <14kg.
Future designs to approach 10kg mark.